Yellow is a wonderfully expressive color. It's cheerful, uplifting, and instantly grabs your attention. There is psychology behind signs and the lines on the road being painted in yellow. It's an eye-catching color, even if it's pale or deep in tone. The addition of yellow can do marvelous things for a space. Even a little accent can provide a bit of charm. One of the greatest spots in which to incorporate this color is through chairs. Yellow chairs have so much style and character that they can elevate a dull space into one with personality. Here are 10 examples of how yellow chairs can transform a space.

The multi-colored chairs around this dining room set are subtle enough that they add character while still keeping with the elegant, upscale vibe of the space.

A contemporary pattern in golds and yellow cover this antique arm chair for a great pop of character by the fireplace.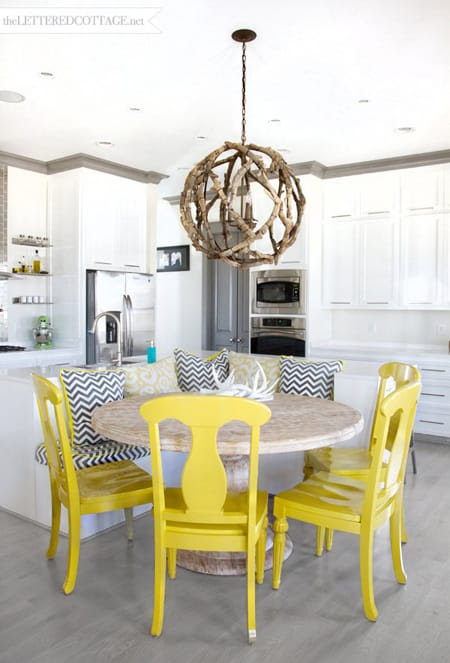 In this white kitchen, the pop of yellow in the chairs brightens up the space, while the black and white pattern on the pillows and banquette add some depth.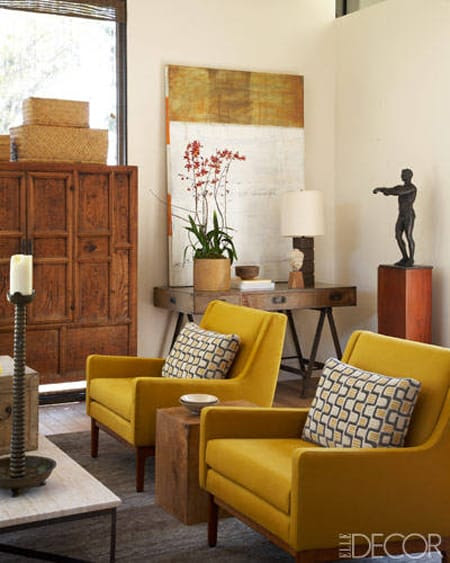 A mustard yellow on the side chairs bring a very mid-century modern appeal to this masculine space.

Black and white is one of the best combinations to pair with yellow for a chic vibe. A mixture of different styles of chairs are joined by the same glossy yellow.

Yellow chairs pop against a blue and white chevron rug and turquoise curtains to create a fun, eclectic dining room.

A simple black table is livened up by four simple chairs spray-painted yellow.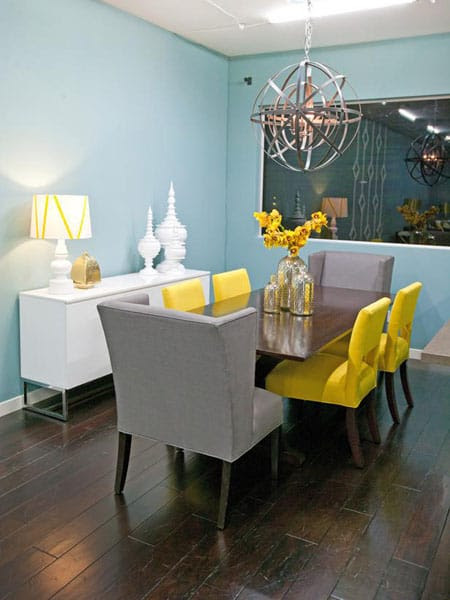 Yellow accents bring some cheer to this contemporary space, popping nicely off the dark hardwood floors and blue walls.

The surprise of the yellow pattern on the back of the chairs is a savvy touch in this dining room. It pairs well with the navy blue on the opposite side.

Just a small hint of yellow in the metallic chevron pattern on the back of the chairs is enough to add some extra unexpected color to this space.
Yellow chairs do a fabulous job of bringing a burst of color and character to a space.
Warm regards,
Megan
Images {1 – Luxe, 2 – Lonny, 3 – The Lettered Cottage, 4 – Elle Decor, 5 – A Beautiful Mess, 6 – House Beautiful, 7 – Yellow Chairs, 8 – HGTV, 9 – Better Homes & Gardens, 10 – Nuevo Estilo via Coco + Kelley}